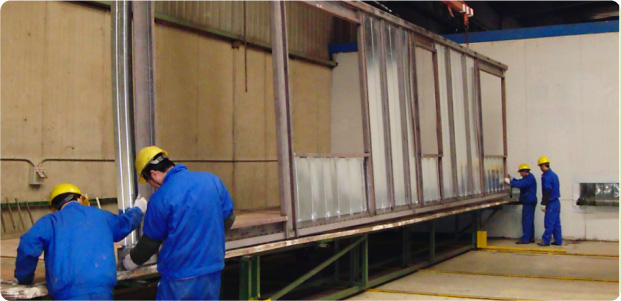 THE PROCESS
1.
MEETING
WITH
PROFESSIONAL
The very first step is to meet one of our well-trained and experienced professionals. This will help us to understand what it will take to design a solution to your projects needs, and to evaluate your functional program.
2.
SITE REVIEW
As part of this process our representative will contact the local municipality in order to fully understand the local codes and zoning in your area. We will also analyze all pertinent documents.
3.
PRELIMINARY
DESIGN
At this point we are ready to do the conceptual layout, site plan and massing to evaluate the viability of the site. If our system is the right fit for your project we will then commence the preparation of a preliminary budget incorporating module costs, site costs, design, transportation and logistics.
4.
QUOTATION
FOR TURNKEY
We provide a quotation of your PICS project; this will be based upon the preliminary design. We will then need to specify delivery terms and dates for the coming stages. This will also include the contract with quotation for the project. You will need to choose a local contractor for the completion of the onsite work, or one will be provided for you. We require a licensed contractor for all work related to the on site preparation, construction, and completion of all items provided by PICS.
5.
PRODUCTION
Once we have attained your approval on the quotation, we will move to the permit application stage. Depending on local requirements, which vary in each area, we will apply for the building permit. This is dictated by local city policy and is discussed with the client. Once you have been approved for a construction permit by the local cities authorities we can start production. We will now begin manufacturing the modules for your project. Our system enables us to build the project in the dry, controlled environment of our factory where we can deliver the highest quality right to your site in a short period of time.
6.
CONSTRUCTION
Installation of the foundation begins while the modules are being produced. Once the modules arrive on site, PICS begins the actual assembly of the project, which is rapidly completed. All parts are lifted by a mobile crane into their final position. We then coordinate the installation of the roof, exterior cladding, and interior connections. The remaining onsite work will then be completed, and your project will be complete!