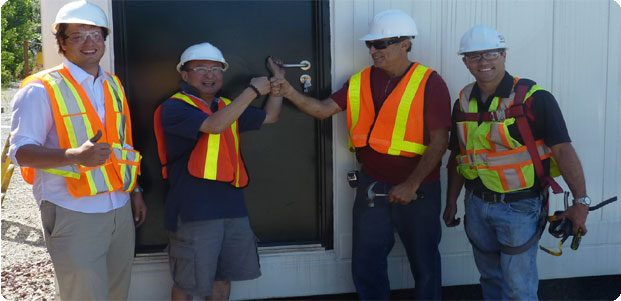 ABOUT PICS

After 30 years of experience in the design and construction business it became evident that the current process of conceiving and building structures had yet to evolve.
Construction remains essentially a "craft" type approach. It is a process where dozens of specialized trades descend on a construction site over an extended period of time, where work is subject to the potential challenges of weather conditions, available local skills and materials.
The Plug In Construction system is our Solution to the many problems of conventional construction.
We take advantage of modern CAD/CAM processes, quality assurance standards, volume purchasing, intermodal shipping techniques, and worldwide distribution networks. This allows Plug In Construction Solutions to be more cost efficient, reduce construction time, and minimize site disturbance.
Our standard building modules are 8 feet wide x 40 feet long x 10 feet high. These basic "building blocks" are extremely flexible and can respond to a diverse range of design targets. We are also capable of altering the size of the modules in order to respond to new challenges.
OUR MISSION

Our mission is to be a world leader in the design, manufacturing, and installation of modular buildings of all types, by using state of the art technologies along with sustainable building practices.

Plug In Construction Solutions (PICS) Imagines a world where every everybody has access to clean, affordable housing in which to live, work and play. Our goal as a company is to provide new and better solutions to the basic human need for shelter.

We aim to create meaningful relationships with our clients and to provide a positive environment for the communities with which we work.